Catesby Estates plc are founder members of the Land Promoters and Developers Federation.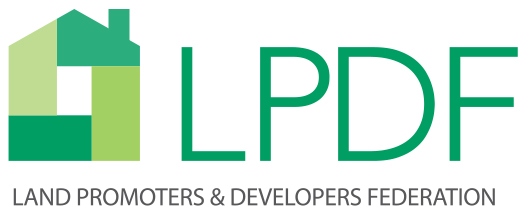 Too many people in this country feel the housing market is not working for them.
So, how do we fix this?
We believe we can achieve more when it comes to looking for a solution if we work together than as individual so, as a sector, we have come together to collaboratively work out how, beyond our existing work, land promoters and developers can contribute to finding a solution to the undersupply of housing in this country.
The perceived complicated and lengthy nature of the planning system is commonly blamed for the supply of housing not meeting the demand for new homes. Within this, the role land promoters play in the delivery of housing, infrastructure and entire new communities is often misunderstood.
The Land Promoters and Developers Federation consists of a number of key players in the sector, both large and small, who have come together to speak with one voice on common issues relating to housing delivery. We want to dispense with some of the myths and misconceptions around the role of land promoters and developers by highlighting the expertise and track record of our members as well as through research relating to the sector as a whole.
By coming together, despite our competing interests, our ambition is to enhance the current debate on housing supply and be part of the process of finding solutions that makes the future for those still searching for a home of their own a brighter one. Find out more about the Land Promoters & Developers Federation here.
Outside of London, there are approximately 541,000 dwellings with outline planning permission on sites of over 100 units.
Land developers and promoters are responsible for securing outline planning for 41% of these dwellings, the volume housebuilders are responsible for 32%.
Approximately 100,000 dwellings are held in outline permissions secured by the public sector and other civic bodies equating to 20%.
The planning process: analysis estimates that for sites of 500 units or more the average time prior to the submission of the first planning application is 3.9 years while the average planning approval period until the first house is delivered is between 5.3 and 6.9 years.
Paul Brocklehurst, Land Promoters & Developers Federation Chairman (Chief Executive of Catesby Estates plc) says: 'With the debate on housing, how it should be delivered and where, becoming ever more political and the debate increasingly highly charged I am pleased to be a leading member of this new Federation – the only organisation representing the interests of the land promotion sector in this way. Our aim is to be a positive force, driving the debate forward and we look forward to increasing our activity and involvement as a membership organisation in seeking solutions to the issues surrounding housing, infrastructure and new communities.'
Who is the LPDF?
The Land Promoters & Developers Federation (LPDF) is a collection of the UK's leading land promotion and development businesses. LPDF members specialise in the promotion and development of predominantly strategic land across the UK, delivering from circa 30 new home sites to larger scale sites of up to 10,000 new homes alongside associated community facilities, employment and supporting infrastructure.
What do they do?
LPDF members support the housebuilding sector providing "oven ready" land with planning permission that can easily be aquired and built out by national and regional housebuilders, helping bring homes to the market in a timely manner to meet local need.
Land sites include both greenfield and brownfield land, often requiring significant investment in infrastructure and decontamination.
Approaches to engaging with housebuilders varies depending on the scale of development. Some land promoters and developers will sell land once consented to housebuilders, with some acting as Master Developers providing infrastructure such as schools and sports facilities, before selling serviced land parcels to multiple housebuilders, therefore enabling faster delivery and bringing new homes to the market quickly.
LPDF goals
To achieve planning permission and provide housebuilders with a supply of consented land for the delivery of homes in a timely manner to help address the undersupply of housing in the UK.
Dispel the myths and misconceptions of the role of land promoters and developers in housing delivery.
Enhance the current debate on housing supply and be part of the process for finding solutions to solve the housing crisis.
LPDF key messages
Land promoters and developers represent the largest group of businesses supporting planning for new housing. Responsible for around 50% of all work on pre-application sites, where the potential of land is explored with Local Planning Authorities, engaging with Local Plans in order to progress plan-led growth.
Land promoters and developers are supporting the UK housing land supply. Outside of London there are 541,000 dwellings with outline planning permission on sites of over 100 units. Specialist land promoters and developers are responsible for securing outline planning permission for 41% of these homes compared to 32% for volume housebuilders.
Delivering affordable homes. Members of the LPDF are committed to delivering social benefits, including the provision of affordable housing. Evidence shows the vast majority of schemes progressed by members of the LPDF meet policy requirements for affordable housing.
Delivering land quickly. About 40% of residential units on sites over 1,000 units have involved an active specialist land promoter and developer dealing with the technical work and planning risk to obtain outline planning permission, meaning housebuilders can get onsite and start building quicker.
Working together. Land promoters and developers work with Local Authorities and communities to win local consensus for developments through good design and both on site and off site benefits. Overwhelmingly, most promoters' schemes that secure planning consent are approved at a local level, with 94% of units on schemes of over 100 units being approved by Councils, not by way of Appeal.
Supporting Government policy. The LPDF support the Government policy on housing and planning, preferring a plan-led system that recognises housing needs and supports Local Authorities in allocating land for development and identifying the need for delivering the key infrastructure required for well-designed new homes and communities.
Increasing diversity in the housebuilding industry. LPDF members promote land of all sizes, which appeals to a full range of housebuilders from SMEs right up to the largest in the country. As well as attracting SME bids on smaller sites, LPDF members increase the pace of delivery and offer opportunities to different sectors of the housebuilding industry by subdividing larger sites into smaller deliverable parcels.
Download a copy of the LPDF key messages here.
LAND PROMOTERS & DEVELOPERS FEDERATION NEWSLETTER - Latest Edition
The LPDF have welcomed the opportunity to engage with the Government in relation to the revised draft National Planning Policy Framework (dNPPF) and accompanying guidance contained in the draft Planning Practice Guidance (dPPG) and the Housing Delivery Test (HDT) Draft Measurement Rule Book. You can can download the LPDF's response here.
REALISING POTENTIAL REPORT - The scale and role of specialist land promoters in housing delivery - DOWNLOAD HERE
Commissioned by the LPDF, the report explores the role of specialist land promoters and developers in delivering much needed homes across England. The study identifies that land promoters are responsible for around 50% of all work on pre-application sites, exploring the potential of land with local planning authorities.
Of the total stock of permissions (some 541,000 dwellings with outline permission on sites of over 100 units), over half are on sites over 1,000 units which will inevitably be developed over a number years.
The report confirms that about 40% of homes on sites over 1,000 units have had an active specialist land promoter driving forward the site. Insofar as there is a clear Government agenda to accelerate the pace of delivery on larger sites, specialist land promoters and developers are clearly aligned to this objective.
What is Land Promotion?
A landowner enters into a legal agreement not with the developer that will eventually build homes on the site, but with a specialist land promoter.
The land promoter takes on the risk and costs of the planning process and in return takes an agreed percentage, of the final selling price once planning permission has been secured, thus maximising the return for the landowner.
Minimising Risk & Maximising Returns
By acting on behalf of the landowner, the land promoter offers a complete solution for those who want to achieve maximum financial return, but have minimal risk, input and financial obligations at the outset of the process.
The promoter's costs are reimbursed out of the land sale, however if planning permission is not obtained by a certain date, the agreement terminates and the land promoter's costs are not reimbursed.
Contracts
There are various types of legal arrangements available from Promotional Agreement, Options and Unconditional Purchases. Visit our FAQ's page for more information.